Belvico's Premium Arabica coffee consists of a selection of Arabica farms with high-quality varieties such as the Typica, Bourbon, Pacamara, and Moka. Fully ripe cherries - once hand-picked and fully washed - are naturally greenhouse dried to create the rich flavours inherent to Arabica from Cầu Đất, Đà Lạt, Việt Nam. 
Now available in our 100% biodegradable bags, every single component - from the closing zipper to the off-gas valve - breaks down in any environment.


Taste notes: 
Bright acid citric of orange, lime and tropical fruits flavours, with a floral, herbal and sweet aftertaste
Roast level: 
Medium
Caffeine level: 
Light ~1.6%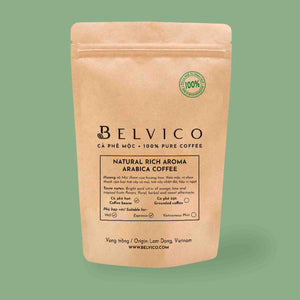 Applications:
Coffee Beans: Suitable for V60 paper filter and Espresso

Ground Coffee: Suitable for Vietnamese Filter

NB - For special requirements with regards to grind, please send us a note when placing your order
Other information:
Belvico coffee does not contain artificial colourants, flavours, or preservatives.